GOATS HEAD SOUP 1973

山羊の頭のスープ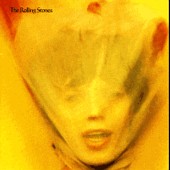 Dancing With Mr.D
100 Years Ago
Coming Down Again
Doo Doo Doo Doo Doo (Heartbreaker)
Angie
Silver Train
Hide Your Love
Winter
Can You Hear The Music
Star Star
---
Musicians: Billy Preston; Nicky Hopkins
Engineer: Andy Johns
Producer: Jimmy Miller
Length: 46 minutes
Label: EMD/VIRGIN
Number of Discs: 1
Mono/Stereo: Stereo
Studio/Live: Studio
The Rolling Stones: Mick Jagger (vocals, guitar, harmonica, piano); Keith Richards,
Mick Taylor (guitar, bass, background vocals); Bill Wyman (bass); Charlie Watts (drums).
Additional personnel: Jim Horn (flute, alto saxophone); Bobby Keys (tenor & baritone saxophones);
Chuck Finley (trumpet); Ian Stewart, Nicky Hopkins (piano);
Billy Preston (keyboards); Pascal, Rebop, Jimmy Miller (percussion).

Recorded at Dynamic Sound Studios, Kingston, Jamaica.